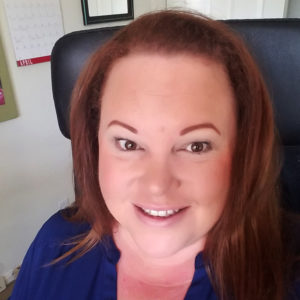 Education
B.S. Web Design, 2008
Westwood College, Denver, CO
summa cum laude
A.S. Graphic Design, 2005
Westwood College, Denver, CO
Accolades
Presidential Volunteer Service Award
Outstanding Volunteer Award
USMC Certificates of Appreciation
USMC Letters of Appreciation
Born and raised in Minnesota, Laura escaped the harsh winters and moved to Florida in 1998.  Briefly attending the University of South Florida before slowly discovering her love for web design.  Self-taught, she spent night after night viewing the source code of web sites until she could write her own basic HTML and CSS code.  By early 2001, she had purchased and published her first web site.  However, marriage and life in general would soon put this passion on the back-burner for a couple years.
After a cross-country move, and with some encouragement, she tried her hand at college again in 2004.  This time focusing on something she loved: Web Design
From 2004 to 2007, Laura was actively involved in the Key Volunteer Network, with the Marine Corps, while attending college full-time.  As a military spouse, she dedicated countless hours to the achievement of family readiness both before, after, and during deployments.  During this time, she was appointed to the role of Coordinator by the Commanding Officer; nominated for numerous awards including Volunteer of the Year and the Presidential Service Award, as well as attending a Leadership Education Seminar.  Her valuable skills and ease with which she spoke to fellow spouses helped to create a strong network of women who endured multiple deployments and developed lifelong friendships.
Since her days as a military spouse, Laura has been a supporter of military veterans and families.  She is also a strong advocate for Pit Bull Rescue organizations with deep emotional ties as "mom" to rescues herself.
Currently, Laura resides in sunny Southern California, with her Pit rescues and one talkative tortoiseshell cat.  Although employed full-time as an Operations Manager, she still finds time to enjoy her passion as a freelance designer.
Originally working under the name Lo Kat Productions, and later, Lo Kat Designs, Laura received the following awards for her web design work:
2007-2008 – American Association of Webmasters, Silver Award

2003-2004 –

International Association of Web Masters & Designers, Diamond Web Award
2003-2004 – International Association of Web Masters & Designers,

Golden Globe Web Award

2002-2003 – International Association of Web Masters & Designers, Golden Globe Web Award
Design to express, not to impress.
John Tandeo